Python developer – AI & Algorithms (f/m/x)
to join our AI Center Vienna, wanted as soon as possible
Join our team and help us to shape a clean energy future! We develop innovative software solutions that
contribute significantly to the transition to greener energy.
Your tasks:
Build up a new AI stack from scratch with our team
Design complex trading algorithms
Bring your own ideas and approaches to problems
Technology used include Python, PyPy, MongoDB, TF, Keras
Your profile:
Excellent analytical skills, pragmatism, humour, passion for development and data
Outstanding knowledge of Python
Good statistical knowledge
Knowledge of machine learning and deep neural networks
Not daunted by seemingly unsolvable tasks
Want to know more about us? 
Here is a VIDEO!
3.500

5.000
We offer an attractive salary which corresponds to your skills and is at least €3.500,- per month. (paid out 14 times per year).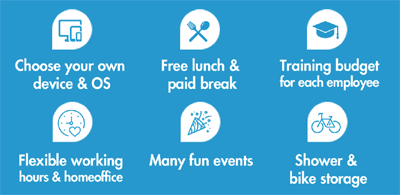 Choose your Device
Free lunch & paid break
Training budget for each employee
Flexible working hours & homeoffice
Many fun eventx
Shower & bike storage

Interested or having questions?

Send your application or questions to:

jobs@visotech.com
I'm looking forward to meeting you in person!

Cornelia "Conny" Habetler
Head of Finance, HR & Business Administration