Job-ID: 104485_DE_2
IT Architect for Entertainment & Cable (f/m/d)
Gesellschaft:
T-Mobile Austria
Standorte:
Wien, Österreich

Karrierelevel:
Professional
Vertragsart:
Vollzeit - unbefristet
Bewerbungsschluss:
30.06.2019
Erforderliche Sprachkenntnisse:
Deutsch, Englisch
Ihre Aufgabe
IT architects play a key role during project discovery, architecture & design, and throughout the full delivery lifecycle. The IT architects operate as business and technology architects for entertainment related and cable specific implementations within Magenta Telekom and devise integrated solutions across people, process and technology.
Your Task:
This role will define the overarching thought leadership regarding cable & entertainment specific implementations
Responsible for ensuring solutions align with the roadmap and blueprints for each impacted domain
Responsible for creating a roadmap to further develop the solution based on the underlying strategy of the business units
Responsible to propose solutions and create high level architecture blueprints to guide e2e solution design within a project
This role will build deep relationships with business as with IT
Participate within the centers of excellence f. architecture with the lead for entertainment solutions within Magenta Telekom
Ihr Profil
Technical education and experience in a similar position
Open minded team player, motivated and self-reliant
Experience in the field of entertainment and cable architecture
Solid in use of Enterprise Architect, Jira & Confluence
Know how in the field of the SID Model (TM Forum) is of advantage
Willingness to enhance your knowledge about state of the art tools and methods and share it with others
High analytical skills
Excellent English, basic German skills are advantageous
Depending on your qualifications, your experience and your commitment we offer an attractive, market compliant salary of about EUR 62.000 per year.
Über uns
We are Magenta.
With Magenta we shape the digital future, which creates sense and brings happiness, which is exciting and thrilling, fascinating and inspiring. Magenta is not a color or a name, but rather a vision: the ultimate promise for the digital future in Austria.
Magenta is a brand of Magenta Telekom (T-Mobile Austria). The company consists of around 2,500 employees. As part of the Deutsche Telekom Group we benefit from innovative strengths and financial stability of the Group, one of the biggest players in the telecommunication market. We make latest technology come alive and tangible, break with old habits and set new standards. To enrich and simplify the daily life of our customers.
Innovative, brave and enthusiastic employees are a crucial success factor. Therefore, we offer you many exciting opportunities. We are Magenta. You too?
Further information at: www.magenta.at/karriere
Ihr Kontakt
"Sie haben Fragen? Ich helfe Ihnen gerne weiter! Für Ihre Bewerbung verwenden Sie bitte unser Bewerbungstool."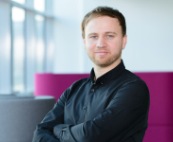 Andre Pulec
E-Mail : andre.pulec@magenta.at