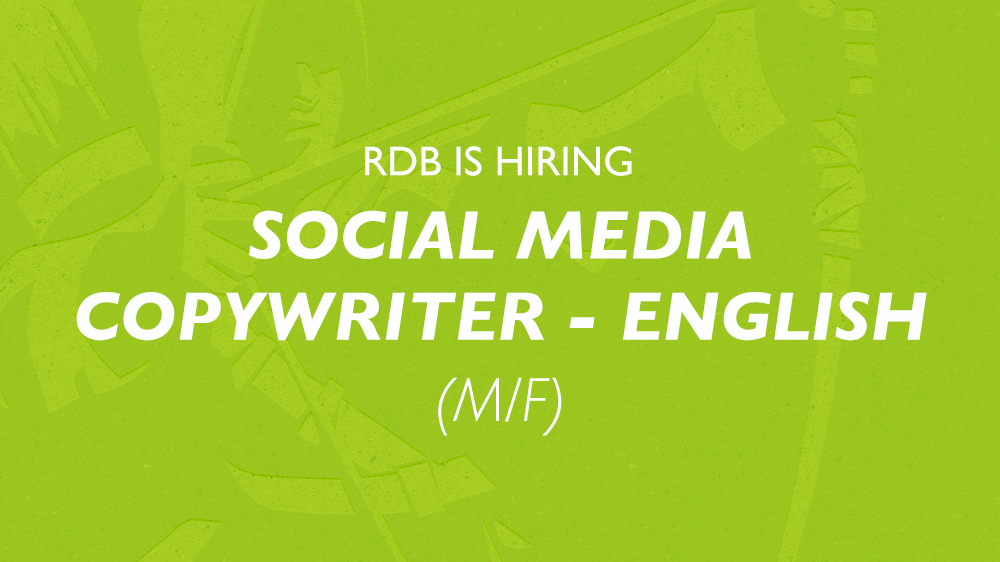 RDB IS HIRING
Social Media Copywriter - Englisch
Roles and Responsibilities
Write, edit and publish engaging posts for various social networks, including Facebook, Twitter, and Instagram
Monthly content creation in English for our clients´ global social networks.
Concept creation and communication's strategy for global brands.
Content creation in English for RDB´s own social networks.
Coordinate with internal teams to create advertising posts (e.g. for events, open roles, and product releases)
Requirements
Proven work experience as a (Social Media) Copywriter or similar role
Hands-on experience using various social media platforms to advertise
Basic knowledge of SEO, keyword research and analytics tools (e.g. Google Analytics) is a plus.
Familiarity with online paid advertising
Ability to deliver creative web content
Excellent communication skills
Preferred Skills
Excellent written and presentation preparation skills in English
Microsoft Word, Excel and PowerPoint super-user is a plus
Experience in Social Media applications and tools
You want to work with a world-class international team on social media campaigns from Austria to the Philippines to South America and the United States?
You want to join a team of driven and young experts who do meaningful work that has a true impact on communities around the globe?
You think Social Media is the future of communications and now how to create kick-ass Facebook & Instagram Content that grabs the attention of Millennials? You can think strategically and adapt your style to the needs of different target audiences?
You love to come up with new ideas and concepts that excite your clients and peers?
You know that motion & video is the key to achieve maximum impact on a users feed? You are bilingual and can communicate in German and English.

Ooh, de Lally!

Join us then at our Sherwood Forest in Vienna ….
What We Offer
An international community within a wonderful and laid back office...
Dogs. A lot of Dogs
A young and dynamic team from 10 different countries working in English, Spanish, and German
An agency model that is based on social fairness, employee happiness and giving back to our communities
International clients and awards
Experience across all fields of design and advertising
A culture that promotes taking responsibility and self-development
Salary: According to Kollektivvertrag für Angestellte in Betrieben der Fachgruppe Werbung und Marktkommunikation Wien, VG.3 nach 2 Jahren with willingness to overpayment
Entry Date: As soon as possible

Please send your application to https://rdb.jobbase.io/job/jnbmk9rn