Job-ID: 95834_DE_2
Agile Tester (m/f)
Gesellschaft:
T-Mobile Austria
Standorte:
Wien, Österreich

Karrierelevel:
Professional
Vertragsart:
Vollzeit - unbefristet
Bewerbungsschluss:
31.12.2018
Erforderliche Sprachkenntnisse:
Deutsch, Englisch
Ihre Aufgabe
Be part of our agile and motivated team of experts to create new products and services. You enjoy working in an interdisciplinary team, supporting operations by maintaining the applications and you are open minded for new ideas and technologies? Then send us your application!
Your daily business
Define the testing strategy
Define and implement automated black box tests, execute manual tests
Guide business team members in testing
Together with the developers in your team you define the collaboration of the various test stages
Work continuously with the Developers as well as the Product Owner to ensure the highest quality
Transform acceptance criteria to test cases
Your working environment will be mostly a Java/Spring based Web applications and/or micro services, and SOAP Interfaces for legacy applications. Web Frameworks will vary from Angular for new Systems to a variety of web frameworks for legacy applications where it is needed. There will be a strong community outside the agile Team providing CI/CD Processes and infrastructure.
Ihr Profil
Passionate about quality and the importance of QA within the development process
Experience in continuous integration or continuous delivery environments
Follow Agile/Scrum approach to Automation/Utility design, develop and unit Testing
Practical experience in setting up automated test environments and writing the scripts that they use
Expertise in writing technical documentation and performing Analysis, black box testing, functionality testing, integration testing, System testing, regression testing User acceptance testing (UAT) and End -to End Testing
Software engineering knowledge
Highly effective in working with other technical experts, Product Managers, UI/UX Designers and business stakeholders
Automated tools and frameworks like Cucumber, Selenium web Driver, Selenium IDE, SOAP UI
Depending on your qualifications, your experience and your commitment we offer an attractive, market compliant salary of about EUR 50.000 per year.
Über uns
T-Mobile Austria is the subsidiary of the Deutsche Telekom AG. As one of the leading players in telecommunication in Europe we shape the digital future. We connect people and machines. In a professional and in a private context.
At T-Mobile Austria there is room for ideas. We break traditional thought patterns and motivate our employees to go the extra mile – on the way to a connected digital future there are lots of possibilities to grow.
Innovative, brave and motivated employees are our key factor for success.
That's the reason why at T-Mobile there will be countless exciting opportunities.
Become a part of something grand - THINK BIGGER!
Learn more: www.t-mobile.at/karriere
Ihr Kontakt
"Sie haben Fragen? Ich helfe Ihnen gerne weiter! Für Ihre Bewerbung verwenden Sie bitte unser Bewerbungstool."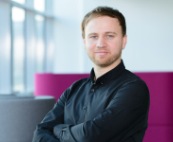 Andre Pulec
E-Mail : andre.pulec@t-mobile.at